How Supply Chain Analytics Drive Smart Manufacturing
Supply chains are becoming smarter thanks to the rapid adoption of IoT devices and other data collection methods. However, analytics are still lagging in the industry, with many companies using spreadsheets to track patterns and shipments. This leads to product damage and financial losses, as well as reputation and partner network relationship damage.
It's a situation that Janne Juhala, co-founder and CEO of Finnish condition monitoring analytics provider Logmore is well aware of.
"Providing the companies that you do business with access to data that demonstrates you're delivering the level of service you've been contracted to deliver just makes sense," he recently told Influencive. "This is definitely true among logistics providers and the companies that rely on them – especially in food and pharmaceuticals, where reliably fast and cold delivery are so critical to the buyers – but it's probably true in more sectors than we realize."
Given the complexity of supply chain processes, it stands to reason that analytics can help create better visibility and more efficient workflows. Manufacturing has taken the lead in this regard and the rest of the supply chain is catching up to the leaps that smart manufacturing has made.
Here's how analytics from other portions of the supply chain combine with manufacturing analytics to drive innovation in the industry.
Capacity Planning
Manufacturing processes used to lead or lag product demand. The lead model has companies manufacture products in anticipation of demand while lagging strategies produce them or install additional capacity once demand is confirmed. With the rise of analytics and data collection, just-in-time manufacturing is gaining ground as a model.
This strategy, also termed "matching," aims to adjust production capacity to demand as quickly as possible. Production resources are utilized better and tasks such as maintenance and replacement can be carried out efficiently. Data from sensors embedded in machinery helps companies make these adjustments.
A crucial part of a matching strategy is a supplier's ability to meet demand. This strategy places varying demands on suppliers and not all of them can cope. Companies have turned to delivery and logistics analytics to help them determine the best suppliers of raw material.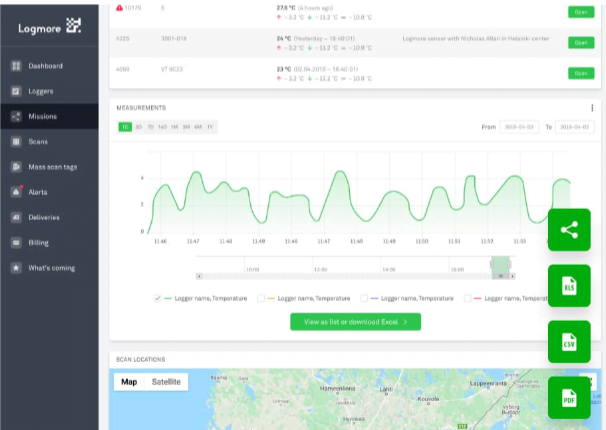 Data such as material storage conditions and delivery lead times help manufacturers map deliveries and plan production schedules ahead of time. The quality of raw material in transit and on vendor sites is also evaluated as part of a vendor's overall performance.
Condition monitoring solutions, such as the ones provided by Logmore, help manufacturers receive real-time updates on a wide variety of data, such as temperature and humidity, related to their goods.
As a result, losses caused by delayed deliveries or poor material handling are minimized and manufacturing runs smoothly.
Sales and Operations Planning
Conventional S&OP planning looked at connecting manufacturing capacity to sales campaigns. However, with the rise of analytics, integrated business planning that includes financial projections and scenarios has risen in prominence. All operational decisions are evaluated based on their profitability and efficiency.
A huge part of creating an integrated business plan is taking product delivery times into account. While A huge part of creating an integrated business plan is taking product delivery times into account. While companies rely heavily on their expanded metal suppliers, they also rely on logistics providers to store and transport their raw materials and finished goods safely. Manufacturers cannot risk excessive supply chain losses thanks to tight production windows.
The solution is to track almost every aspect related to the condition of their goods, and it's a need that Logmore fulfills. By providing the ability to track various condition-related variables such as temperature, humidity, light, and shock, Logmore helps manufacturers minimize supply chain losses.
The company also provides its clients with a cloud analytics package that allows them to set condition thresholds and receive real-time alerts. Manufacturers can use these data to evaluate logistics providers and work these numbers into their S&OP projections.
Scenario Analysis
Logistics is a complicated industry. Often, the shortest route might not be the best choice due to events such as regulatory changes or customs delays. Modeling scenarios is important in logistics since it directly impacts production and sales scenarios.
Large enterprises regularly use optimization-based scenario planning to create efficient supply chains. Data retrieved from production assets, vendor analysis, and logistics providers help create lengthy workflows where the output of one scenario acts as the input of another.
Reverse logistics analysis also helps uncover sunk costs and other inefficiencies in the supply chain. In this form of analysis, data obtained from production and logistics come together to provide companies with a holistic view of their supply chain. The key to successful modeling is integration. Data from different sources need to be able to talk to one another, and it's something Juhala emphasizes with Logmore's QR code-based data loggers.
Our users don't have to reconfigure their infrastructure or buy specialized scanners and hardware. Just having a smartphone is enough to use our service," he told CEOWORLD magazine. "Compared to the more traditional companies in the industry, Logmore is much cheaper, easier, and more reliable. A lot of companies use USB loggers, which must be connected to a PC with a cable for data transmission. That takes roughly five minutes per logger. Logmore's data retrieval takes a maximum of five seconds per logger."
Demand Shaping
Demand shaping is the term given to situations where sales teams wish to increase the consumption of their goods. Discount sales or special promotions are examples of this. A successful sales promotion has to take manufacturing ability into account or risk losing additional sales due to a lack of product.
This means procurement analytics such as raw material storage and vendor performance are critical for success. While scenario planning is a simulation, demand shaping is the real thing.
Metrics such as lead time, machine effectiveness, inventory storage efficiency, and successful delivery missions are critical to creating great demand shaping campaigns
Cost Tracking

Companies that wish to increase their profit often start by reducing costs. Calculating the unit cost of an item is tough since there are so many variables that go into the number. Labor, material costs, transportation costs, and manufacturing costs are all a part of the equation.
The only way to track and minimize costs is to apply analytics to data. Data from IoT devices in the production line can help uncover inefficiencies, while logistics data related to storage issues can uncover non-traditional cost centers.
For example, Logmore offers its clients the ability to track ambient light in their shipments. Excessive light indicates improper storage or the fact that a package has been opened at an inappropriate time.
Analytics Powers Supply Chains
As the power of data becomes more evident than ever,supply chains around the world are becoming smarter.
As Juhala says, "Data and analytics can be used to counter problems before and after they happen. Recording data from what happens lets you recognize patterns. Negative patterns can then be avoided in the future by adjusting operations."